The Jeep Recon is square, the 'Wagoneer S' is a sleek, luxurious midsize SUV, and the tiny Avenger will only be sold in Europe
The legendary U.S. Jeep brand announced it will sell four separate battery-electric SUVs in various markets by the end of 2025—three of which were unveiled this morning in an online presentation and event it called "Jeep 4xe Day."
Two of the new EVs will be sold globally: an upright, square, off-roading Jeep Recon model, and a sleek, luxurious model code-named the 'Wagoneer S.' Both are built on the STLA-Large EV platform, one of four separate skateboard EV architectures that Jeep parent Stellantis will use to underpin electric vehicles from its stable of a dozen brands. The pair of midsize electric SUVs will be built in North America and go on sale in 2024.
The third model revealed today was the long-awaited "Baby Jeep," a small SUV even more minimal to U.S. eyes than the compact Renegade, the smallest Jeep sold in North America. It will go on sale in Europe, where "B-Segment" subcompacts remain in an important market. But it won't come to the U.S. or Canada.
Jeep released few specifications for the new EVs, nor did it discuss the fourth model coming by 2025. But it's clear that by adding new model names, Jeep's lineup will expand even more broadly, in keeping with its goal of becoming the world's "leading zero-emission SUV brand." By 2030, executives said, 100% of Jeep sales in Europe will be battery-electric, as weill 50% of U.S. sales. All Jeep models will be electrified by 2025—either battery-electric or with an available plug-in hybrid powertrain—and executives said the new EVs in particular will help Jeep's chances in Asian markets, for which read China.
Jeep Recon: Wrangler-modeled EV
Ralph Gilles, Stellantis' head of design for the Jeep brand, acknowledged the Recon immediately evokes the upright, square lines of the classic Wrangler. The Recon, in fact, was designed by the same team that produced the latest Wrangler, launched for 2018.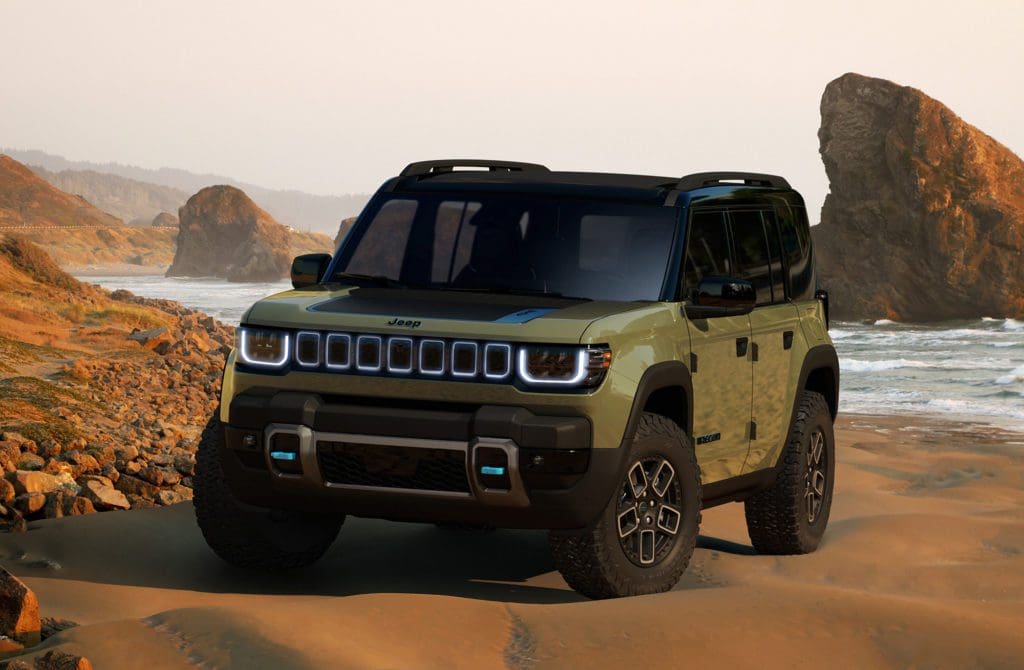 The all-new, all-electric Jeep Recon
It's a midsize SUV which has (at least in concept form) a bluff front, knobby off-road tires, upright side and rear profiles, and a side-hinged tailgate with a spare tire on it—all Wrangler design cues. It's aimed, the company said, at "those who love to explore extreme adventures in near silence with a rugged, fully electric vehicle."
The glass and doors are removable, and a Selec-Terrain traction management systems gives it the all-important "Trail Rated" designation prized by off-roaders. It has "the capability to cross the mighty Rubicon Trail, one of the most challenging in the U.S.," said Jeep CEO Christian Meunier, with enough range to drive there, cover its 22-mile length, "and reach the end with enough range to drive back to town and recharge."
Jeep said little about the Recon's battery or running gear, though it will be offered solely as an EV. Gilles noted the Recon is built on the STLA-Large platform, one of no fewer than four separate EV skateboard architectures Stellantis described in a technical presentation last summer. A production version of the Recon will be shown next year, with customers able to make reservations starting early in 2023. Production will start in 2024.
'Wagoneer S': Midsize luxury EV suggests high-end sub-brand
Jeep only resuscitated the Wagoneer name last year, with the launch of the Wagoneer and more luxurious Grand Wagoneer full-size SUVs. But those vehicles lack any "Jeep" markings, leading analysts to wonder if the model might become its own sub-brand. Indeed, that appears to be the case with the 'Wagoneer S' concept, a code name execs said the company is using "for now."

All-new, all-electric Wagoneer S
Somewhat similar in shape and appearance to a Range Rover Sport, the midsize Wagoneer S is a full size smaller than the hulking, Ram-truck-based Wagoneer SUVs now on sale. Hallmarks for its premium positioning are "high-quality craftsmanship" and aerodynamic efficiency, as shown by its laid-back iteration of the classic Jeep seven-slot grille. It will, of course, have 4×4 capability as standard.
Design aside, the salient features of the Wagoneer S will be its range—400 miles on a single charge, Jeep promised—and its power. It is projected to deliver 600 horsepower (450 kilowatts) and accelerate from 0 to 60 mph in roughly 3.5 seconds.
One more Wagoneer note: The full-size gasoline SUV models will get their own plug-in hybrid versions next year as well, said Jim Morrison, head of the Jeep brand in North America. Combined electric and gasoline range is to exceed 500 miles. That suggests a different, more substantial plug-in hybrid powertrain than the turbo-4 and conventional automatic transmission used in the Jeep Wrangler 4xe, the best-selling plug-in hybrid model on the U.S. market this year.
Jeep Avenger: Euro-only subcompact
The old Fiat Chrysler lagged badly in electrification, one of the reasons its 2021 merger with PSA Peugeot Citroen to form Stellantis was necessary.
The tiny Jeep Avenger is based on PSA's "e-CMP" platform, an electric adaptation of its small-car CMP platform used for a variety of gasoline vehicles. EVs on that architecture include the battery-electric Peugeot e-208 and Opel Corsa-e, both of which have similar looking gasoline versions. However, Jeep said nothing about a gasoline version of the Avenger. The littlest Jeep will be officially launched at the Paris Motor Show on October 17. Like other e-CMP based models, it will be assembled in Tychy, Poland.

All-new Jeep Avenger, the first-ever fully electric Jeep SUV
Some auto trivia to brighten your Thursday: The "baby Jeep" had long been rumored to carry the "Jeepster" name, but it has emerged as an Avenger—a name with a long history in Europe and the U.K. It was first used on a 1970 Hillman sedan, produced by Rootes of England, which Chrysler had bought in 1967 and then merged with France's Simca. The resulting Chrysler Europe was sold to Peugeot in 1978 when Chrysler neared bankruptcy, with its models then rebranded as Talbot. Before it went out of production in 1981, that Avenger was variously sold as a Hillman, a Chrysler, a Dodge, a Sunbeam, and a Talbot. From 1995 to 2014, the Avenger name was also used in North America on Dodge mid-size coupes and sedans. Now the latest Avenger will be a Jeep, in Europe, reuniting the name's Chrysler and Peugeot parents once more.  Got it?